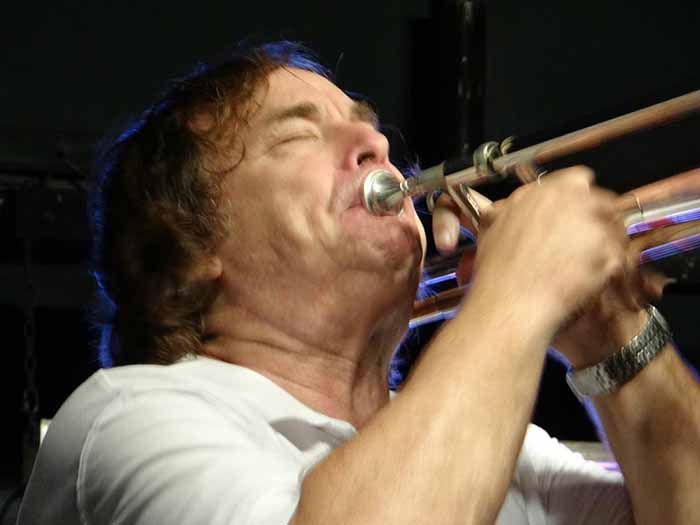 Dave Ruffner - Musician - Trombonist, Harmonica Player, Vocalist, Songwriter, and Teacher.
David Robert (Dave) Ruffner is known for two things. He was a high school band director for many years and is remembered for his tenure at Fresno High School. He is also the leader of the Blue Street Jazz Band and serves as the trombonist, one of several vocalists, as well as a composer and arranger for the band.
EARLY LIFE
Born in Bakersfield, California, Dave's parents were of the World War Two generation. His father Robert met his mother Josephine in Brighton, England during the war while serving with the Canadian army. Older sister Janet was born in that country. Dave was born in Bakersfield, California on March 1, 1952. He had a younger brother, Roger who died at the age of 9. Dave's mother had a musical background and played piano and accordion. She bought him his first trombone when he entered the 4th grade at the age of 10. She fostered his love for music by taking him to hear the Bakersfield Municipal Band in the summer and by listening to Glenn Miller recordings. During his junior high and high school years, Dave attended Belleview Baptist Church, where he sang in the church choir, barbershop quartet, and played trombone in a brass trio, and was an occasional soloist at Sunday night services. Dave attended schools in Bakersfield, participated in the music programs, and graduated from Foothill High School in 1970. While Music was to become the focus of his life, playing sports was his major interest as a youth.
TEACHING CAREER
After high school, Dave attended Biola College for one year. Leaving Biola Dave spent the following year as a truck driver and during that time made the self-discovery that music was the love of his life. The following year Dave attended Bakersfield College for a year and then transferred to California State University Fresno. He graduated from Fresno State University (California State University at Fresno) with a degree in Music Education in 1975. He became the first band director at the newly built Firebaugh High School in Firebaugh California in 1976. At Firebaugh High School, Dave established a successful music program with an award-winning marching band and superior-rated concert band. After teaching five years in Firebaugh, Dave took the band director position at Fresno High School Warrior Band and remained in that capacity for 30 years. At Fresno High, Dave established another successful program producing an impressive list of future music teachers and musicians as well as a number of devoted former students, all of who Dave cherishes. During his first few years at Fresno High School, Dave promoted jazz concerts that featured the big bands of Count Basie, Woody Herman, Lionel Hampton, and Maynard Ferguson. He also created a youth Dixieland Jazz Band called the Raisin Babies that performed at a number of jazz festivals in California, Oregon, Iowa, New Orleans, and Canada. Dave wrote columns about youth traditional jazz bands for many years for the American Rag and is considered by some an expert in that field. Always thinking of a possible job change, Ruffner continued to study throughout his teaching career.  He earned his Master's Degree from Fresno State University in music education in 1981. He also attended Fresno Pacific College where he studied School Administration and earned a credential in School Counseling in 1991. He later attended the Mennonite Brethren Biblical Seminary earning a Master's Degree in Theology in 2008.
MUSICAL CAREER
In his later years of college, Dave played in the Fresno Philharmonic Orchestra and also performed in local rock bands and dance bands. During his college years and early teaching years, he played in a Christian rock band called LIGHTSTREAM formed out of the People's Church where he received valuable performing experience. Initially, Dave was certain that teaching music would be his only profession in life, but opportunities to perform music for money eventually emerged. After college, Dave began to moonlight as a musician when the opportunity presented itself. Ruffner had long stints playing in the Fresno Municipal Band and in a Latin band led by Gilbert Castellanos called Copacabana Tropical. He also played in local dance bands, church orchestras, and events such as the Fresno Fair. He led his own dance band - Dave Ruffner and the Lil' Big Band and a polka band with several titles. 
BLUE STREET JAZZ BAND
In 1983, Forrest Helmick was given the opportunity by Fresno Bee columnist and jazz festival organizer Woody Laughnan, to form a Dixieland band of younger musicians to perform at the Hanford (California) Jazz Festival. Dave Ruffner was on Forrest's list of calls and along with four other people, the Blue Street Jazz Band was launched. The one-time pick-up band evolved into a very successful band that has become a mainstay of the Dixieland jazz circuit. Ruffner eventually took the helm as the leader of the band and began to set the course for the group. The band has played festivals throughout the West, and in Iowa, Wisconsin, Connecticut, Florida, as well as Canada, Europe, and Mexico. Blue Street didn't focus alone on traditional jazz for its repertoire but took a more eclectic approach by playing Swing styled songs, New Orleans Mardi Gras music, and Gospel music. The band became a recording juggernaut by making 25 albums. They also made three videos. Ruffner composed and arranged a number of songs in the Blue Street repertoire. He also put together the signature sets that Blue Street is known for. These special sets include presenting the History of Jazz and sets in tribute to Kid Ory, Louis Armstrong, Sidney Bechet, and Jelly Roll Morton. Blue Street is best known for its Sunday Gospel presentations that include hymns and an occasional sermon rendered by Ruffner. Aside from Blue Street, Ruffner led two bands formed from the Blue Street personnel, one devoted to big band swing – Dave Ruffner and the Lil' Big Band, and a short-lived polka band called the Archive Brothers. In 2012 Dave along with Blue Street drummer Rick Canfield and bassist Sam Rocha formed an auxiliary group from the Blue Street Jazz Band – Le Hot Club de Rue Bleu. This group specializes in the Hot Club music style influenced by Django Reinhardt. Instead of using a violin that is traditional to Hot Club groups, the Hot Club of Rue Bleu employs a harmonica instead. Dave plays that part in the Hot Club de Rue Bleu.
SONGWRITER
In the 1990's Dave began to write songs for the Blue Street Jazz Band. Songs best remembered include Ruffner's Auto Rag, Montana Blues, Bakersfield Boogie, Fresno Blues, and By Jesus' Blessing.
AUTHOR/WRITER
Aside from being a longtime columnist and writer for the American Rag, Dave authored a book about the origins of Blue Street Jazz Band. Our Turn to Dance was self-published in 2008 to commemorate the 25th anniversary of the Blue Street Jazz Band.
CHRISTIAN FAITH
Dave became a Christian at the age of thirteen. He grew up in the fundamentalist–evangelical tradition of Christianity. While believing in God has never been a problem, walking the straight and narrow path that Christianity demands was once challenging for him. Dave maintains that the spiritual experiences that he has encountered in his life have been far too real for him to ever waiver from his faith. Attending seminary and the writings of such authors as CS Lewis has greatly influenced his Christian thought over the years. For Dave, the meaning of life is to serve and please God and treat everyone with respect. Dave seeks daily spiritual growth through devotions and meditation as well as praying the EXAMEN. 
CURRENTLY
Dave currently lives and works as a musician in New Orleans, LA.  He leads his group, THE BEIGNET ORCHESTRA OF NEW ORLEANS Thursday through Monday days a week at the CAFE BEIGNET on 311 Bourbon Street from 10 am to 2 pm.  Dave plays on the CREOLE QUEEN PADDLEBOAT on Thursday and Friday evenings from 6-9. On Saturday nights, Dave also performs with the FRITZEL'S ALL-STARS at FRITZEL'S EUROPEAN JAZZ CLUB on 733 Bourbon Street from 9 pm-1 am and on Mondays and Tuesdays, Dave performs at the Maison Bourbon on 641 Bourbon Street from 3-7 pm on Monday afternoons and from 8-12 midnight on Tuesday nights.